"The most brutal dragon. Driven by anger, you are better off fighting a Periculum" - Villager
Terra is the final dragon you battle. He is a mad and brutal dragon, and fights with no mercy.
Errgent, Mad King
of Pollonosisico is the Rider of him.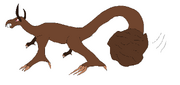 He will use uncanny methods to confuse you before he goes in for the final blow.
Ad blocker interference detected!
Wikia is a free-to-use site that makes money from advertising. We have a modified experience for viewers using ad blockers

Wikia is not accessible if you've made further modifications. Remove the custom ad blocker rule(s) and the page will load as expected.